Background
The Netherlands have always looked to stay neutral in international conflict and were careful not to take a stand on the situation of Nazi Germany. To this day, they have always aimed to be neutral and not descend into war, unless provoked.
The ultimate goal of Nazi propaganda was to antagonise Jews and increase their suffering of consistent plight.
In early 1940, Belgium and the Netherlands posed as key territory for Germany to help bypass the French defence line and the Eastern border. This planned occupancy could have also stopped England from setting up a mainland European base.
Blitzkrieg
In one swell swoop, Germany planned on invading Belgium, the Netherlands and Luxembourg to catch them off guard. The Germans used officers to dress up as tourists to map out the area and also received intel by German nationals residing in the area. Espionage at it's peak.
In a slew of events: the Queen fled to England, the Germans failed to take the Hague, Rotterdam was bombed displacing 80,000 and killing 600 to 900 people.
The Netherlands was toppled. They were failed by their neutralist policy which did not allow them to take thorough defence strategies from France and England. The Dutch weapons were outdated and the small Dutch victories were undermined by the depth of German might.
Germany had now officially occupied Western Europe. The Jewish population was now under attack: living in fear and hostility. Some fled prior to the invasion while others chose to stay to live in fear or commit suicide months after.
Mokum. Yidish for 'safe haven'. It is commonly referred to as a nickname for Amsterdam. One of five cities in Western Europe included and labelled along with the first letter of the Yidish alphabet due to heavy Jewish presence during the Holocaust.
In May 1940, anti Jewish decrees were enforced. Jewish civil servants were fired. Jewish businesses and residents themselves were to be registered.
According to Holocaust memorial museum in Jerusalem: by the Summer of 1943, most of the Jews living in Netherlands were deported.
A total of 107,000 jews had been deported to extermination camps. 75% of Dutch Jews were terminated during the Holocaust. An estimated 25,000 Jews went into hiding in the Netherlands. Two thirds of that survived. The others were betrayed and discovered.
Before the World War Two, 80,000 of the 14,000 Jews that lived in the Netherlands lived in Amsterdam. Most of them being Ajax fans. Amsterdam, considered to be the 'Western Jerusalem'.
Enter Ajax
Het Houten Stadion. Known as the Wooden Stadium. It served as the first ever home venue for Ajax from 1907 to 1934. Their previous venue was a playing field where houses were to be built in 1907, sending the club on a hunt for a new location.
The second was the De Meer Stadion. The previous stadium was too small but this one could hold a capacity of 29,500.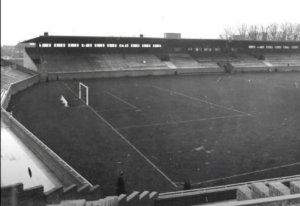 The stadium was located next to Amsterdam-Oost. A fiercely strong Jewish-populated neighbourhood located in the South-Western region of the Dutch capital.
A club a couple blocks away, WV-HEDW, were decimated during the Holocaust. 236 of their members were brutally murdered.
WV-HEDW were always the biggest Jewish football club in Amsterdam. They still play in Dutch league football to this day.
Opponents of Ajax would often see their supporters march down Nieuwmarkt/Waterloopleinbuurt which was a small corner next to the stadium. Known as de Jodenhoek, 'Jews corner'.
Super Jews
Imagine bearing the flags that included the 'Star of David' and the Israeli flag while supporting Ajax. Often chanting 'Joden Joden' – 'Jews Jews' at games. Those that would were called the Super Jews.
A group of impassioned Jewish supporters of Ajax maybe retaliating against anti-semite chanting. Frustrated opposition supporters would often chant abusive and anti-semitic messages which intensified through the years at the De Meer Stadion.
Recent instances of such acts were captured in history from arch-rival Feyenoord fans. Caught using messages such as "Hamas, Hamas, Jews to the Gas", "Let's go Jew hunting", "If you don't jump, you're a Jew".
Jewish culture was a filling layer in the sandwich of Ajax fan culture. At one point, ringtones of a classic Hebrew folk song, 'Hava Nagila' could be downloaded from the official club website.
Irish-dutch filmmaker Nirit Peled made a documentary film on her experience as an Israeli immigrant in Amsterdam trying to find her identity juxtaposed with the views of the Super Jews. Nirit herself narrates the film in both Dutch and Hebrew.
The role of Ajax in Judaism and her personal struggles for identity are held closely under a microscope.
She told CNN:
When I made this film, one of the questions people asked as an Israeli and a Jew was: 'Are they (Ajax fans) anti-Semitic?'

I don't think it has anything with religion for them.

It's very much a friction that's created, again, based on kind of identities.

The kids don't understand the connection. A nice anecdote is that young people in Amsterdam today will go to a jeweller and ask for the 'Ajax star.

They don't even know that it's actually the Star of David. Today, it's the Ajax star.

What's funny is that in the whole discussion about this phenomena, we're not asking ourselves why the word Jew is still a curse word.
The North Up
The North Up Alliance are a Dutch tifosi group. Similar to the Super Jews, they are also associated with Jewish-Ajax support.
Founded in 2012 as a collective primarily found supporting Ajax in the upper North ring of the Stadium.
Partially responsible for the graffitis that currently occupy the ceilings of the player tunnels, the group would often meet every Thursday night at the Amsterdam Arena to prepare massive banners for the weekend.
They are made of primarily 300 members who take up rows 409 to 414 of the second ring. To occupy this section of the stadium, the group have agreement with the club as long as they adhere to the guidelines of the stadium.
Uri Colonel
A sports director and chairman of Ajax from 2008 to 2011. He was also a board member from 1989 to 1997. He was pivotal in moving the Ajax from the De Meer Stadion to now the current home of the Johan Cruyff Arena.
He became a chairman after inducting an inquiry into his predecessors due to a lack of functionality at the club. Not only would Ajax have a chairman that would work for free, yes it was unpaid, he was their first Jewish chairman.
Sjaak Swart
He was born in a fishing village 14 miles east of Amsterdam. He amassed a record 600 matches for Ajax as a right winger. He won three European cups. He made his debut for the club in 1956.
He scored 170 goals in 461 appearances. An Ajax icon.
Turns out he is also Jewish. Swart and his father survived the Nazi Germany occupancy between 1940 and 1945.
His father was a fisherman who sold herring at the market. His family hid from German and Dutch colluders during a period of hell.
Ingrained
You can tell apart the tapestry of Jewish culture sewn into through the club's foundations.
Anti-semitism still exists in todays world. Jewish symbolism being openly worn by members of tifosi could be either offensive or supportive. Which side of the line are you on?
It may not to do used due to religion – but culture. Is it surprising the use of Jewish symbolism is still linked to the club via various channels throughout from the 'Super Jews' to the flags they carry to high profile European games?
Take a trip down to the stadium today. You will see neighbouring shops littering the street with flags of Israel draping the windows.
It might be nostalgia for some clubs but it is legacy for this one.