As we approach De Klassieker – one of the most important fixtures on both Ajax and Feyenoord's schedules – it may help to reflect upon the reverse match. That match, played at De Kuip in October of last year, ended with a triumphant 1-4 victory for Ajax. The match on Sunday will feature many differences; Erik ten Hag will manage his first competitive game as Ajax boss, Kasper Dolberg will miss out through injury, and Feyenoord will have more confidence based off their recent form.
---
During the winter break friendlies, ten Hag picked a typical 4-3-3 lineup in both matches. The first match featured his presumably favorite eleven, with Frenkie de Jong in his dynamic libero position in defense and new signing Nicolás Tagliafico starting at left-back. Besides those notable points, it appears the new management won't upheave the squad's tactics much for the upcoming De Klassieker.
Analyzing the most recent De Klassieker
Three months ago in Rotterdam, Marcel Keizer's Ajax lined up similarly. Maximilian Wöber started centrally while Nick Viergever moved to left-back. Klaas-Jan Huntelaar started up front – which he will likely do Sunday – and Amin Younes played out wide. Justin Kluivert will probably replace the out-of-favor German, though I wouldn't be surprised to see Erik ten Hag give Younes a second chance this season. Frenkie de Jong should be expected to usurp Wöber at the back, although his lackluster physical presence could lead ten Hag to favor the tall Austrian instead.
Ajax Build-Up
At De Kuip, Ajax built up play with Viergever high up the left flank. This left Wöber lots of space to dribble into and is a notable opportunity of strength if de Jong is provided the same space. However, with Tagliafico out wide things could change. I'm told by my Argentinean Superliga-fanatical friends that he often prefers to sit back as a defensive full-back. If that's the case, de Jong may have to do most of the creating on the left side of the pitch.
We can see in this next example how Feyenoord often dealt with Ajax' spacious build-up play. Once again, Viergever drags his marker wide which opens space for Wöber to play into. Despite this, Jens Toornstra sticks close to Nicolai Jörgensen as a cover shadow to Lasse Schöne in the middle. If Feyenoord see the veteran Dane as a major threat, it's possible that a defensive pairing of Matthijs de Ligt and de Jong could exploit that with their passing and composure on the ball.
If the likes of Toornstra decide instead to press the center-backs, attacking out wide could be a better option. In this example, we see the ball out wide with Joël Veltman. Since the players on the opposite flank keep their distance, big gaps in the midfield open up. Schöne and one other midfielder (in this case Donny) find openings to offer triangular passing options. This is why Veltman and Tagliafico could be crucial to Ajax' attacking play.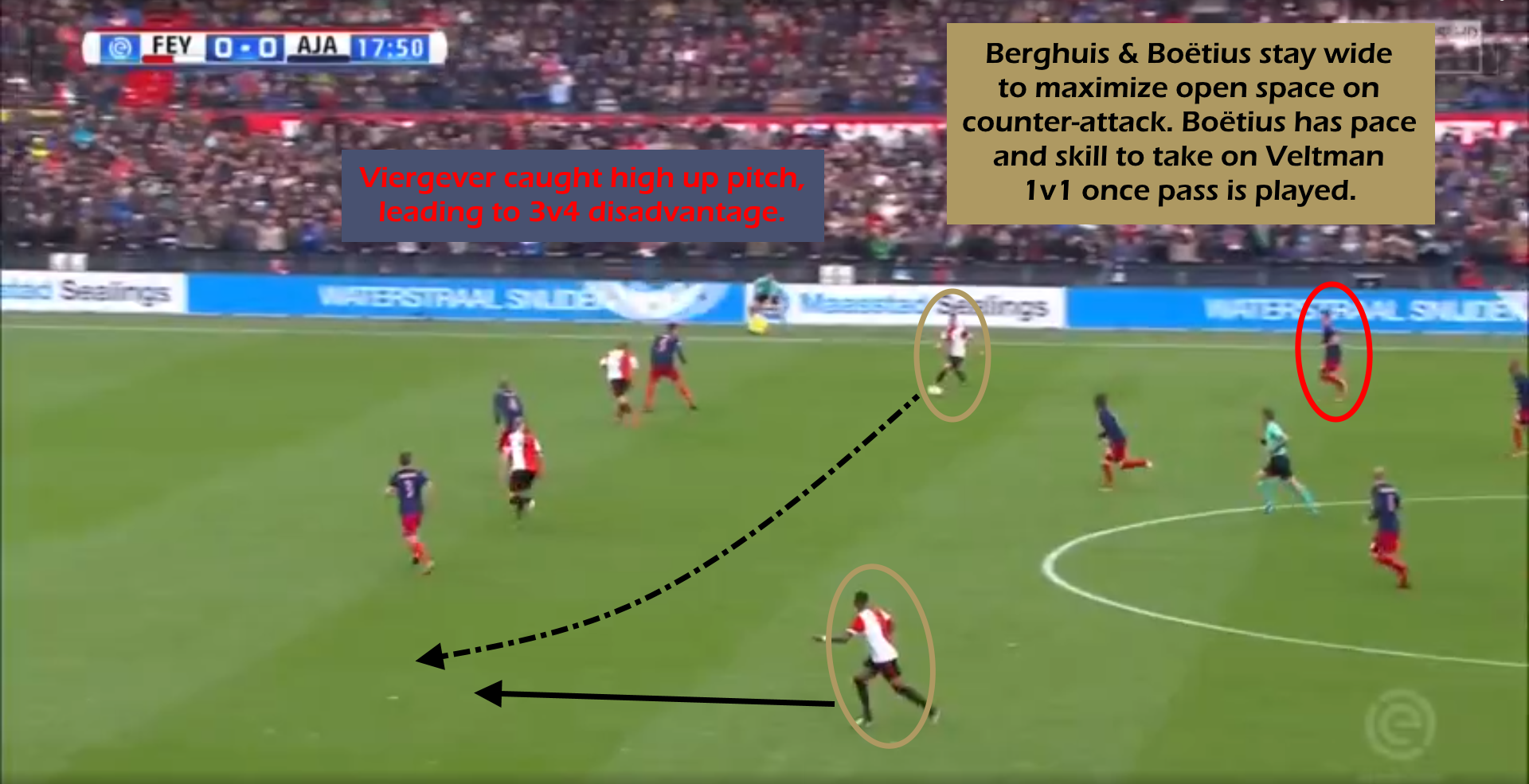 Looking at Ajax' build-up, it may be beneficial to have a left back in Tagliafico that doesn't roam forward too often. In this screenshot, Viergever gets caught up the pitch and can't get back in time to prevent a major Feyenoord advantage. Anything can happen with either Sam Larsson or Jean-Paul Boëtius taking a laggard Veltman one-on-one, slanting the advantage in De Klassieker towards the visitors.
Feyenoord Build-Up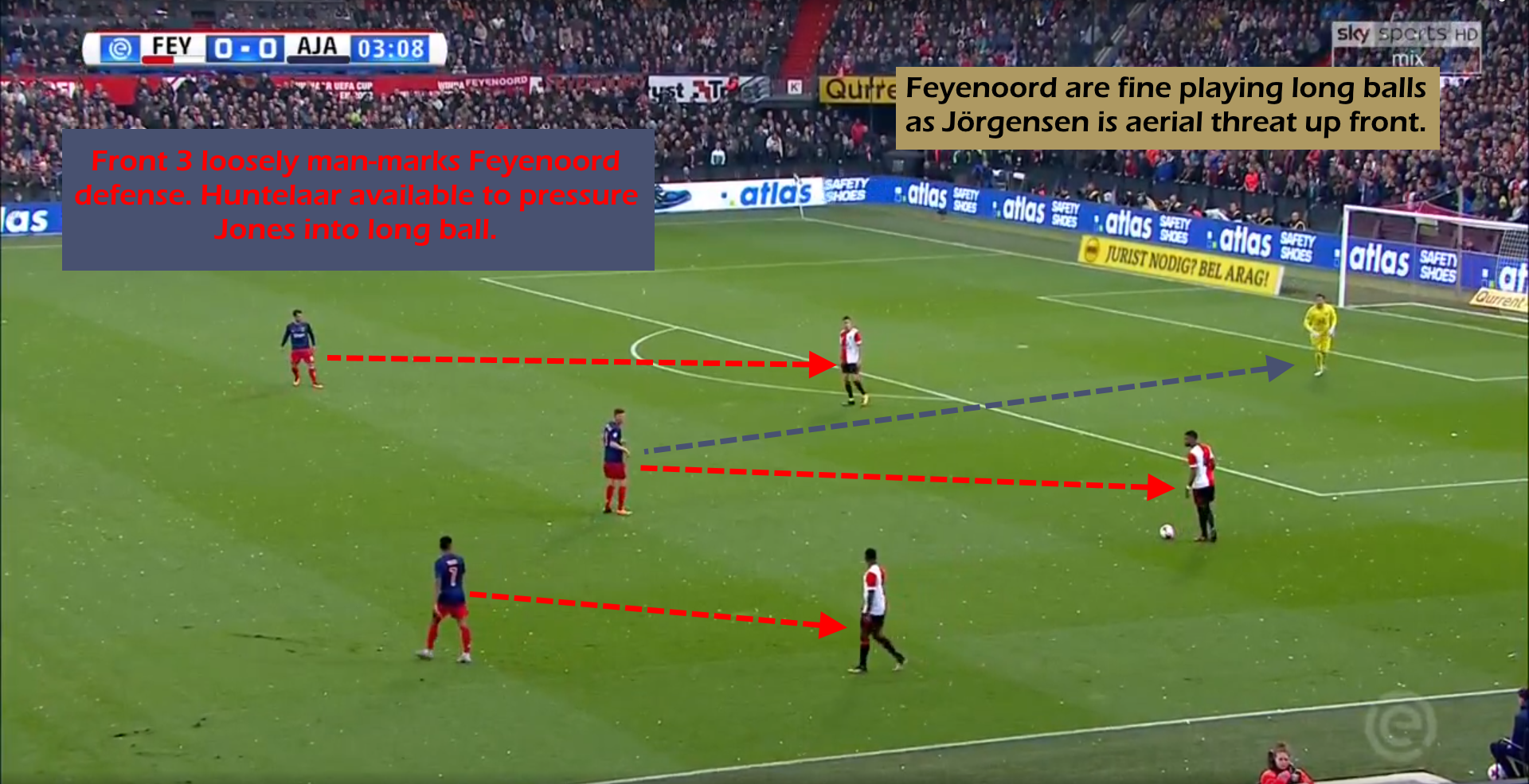 Feyenoord, on the other hand, will probably not choose to pass from the back too often. During the last showing, Gio van Bronckhorst seemed fine with his 'keeper Brad Jones pinging long balls towards Ajax' backline. A front three of Kluivert, Huntelaar, and Neres provide a major pressing threat to Feyenoord's physical defense. Yet, if Ajax become overzealous with their pressure in De Klassieker, it is likely that Tonny Vilhena and Toornstra have the quality to create space behind the Amsterdammers' pressing. Feyenoord created a few opportunities from these instances last year, which will be covered later in this article.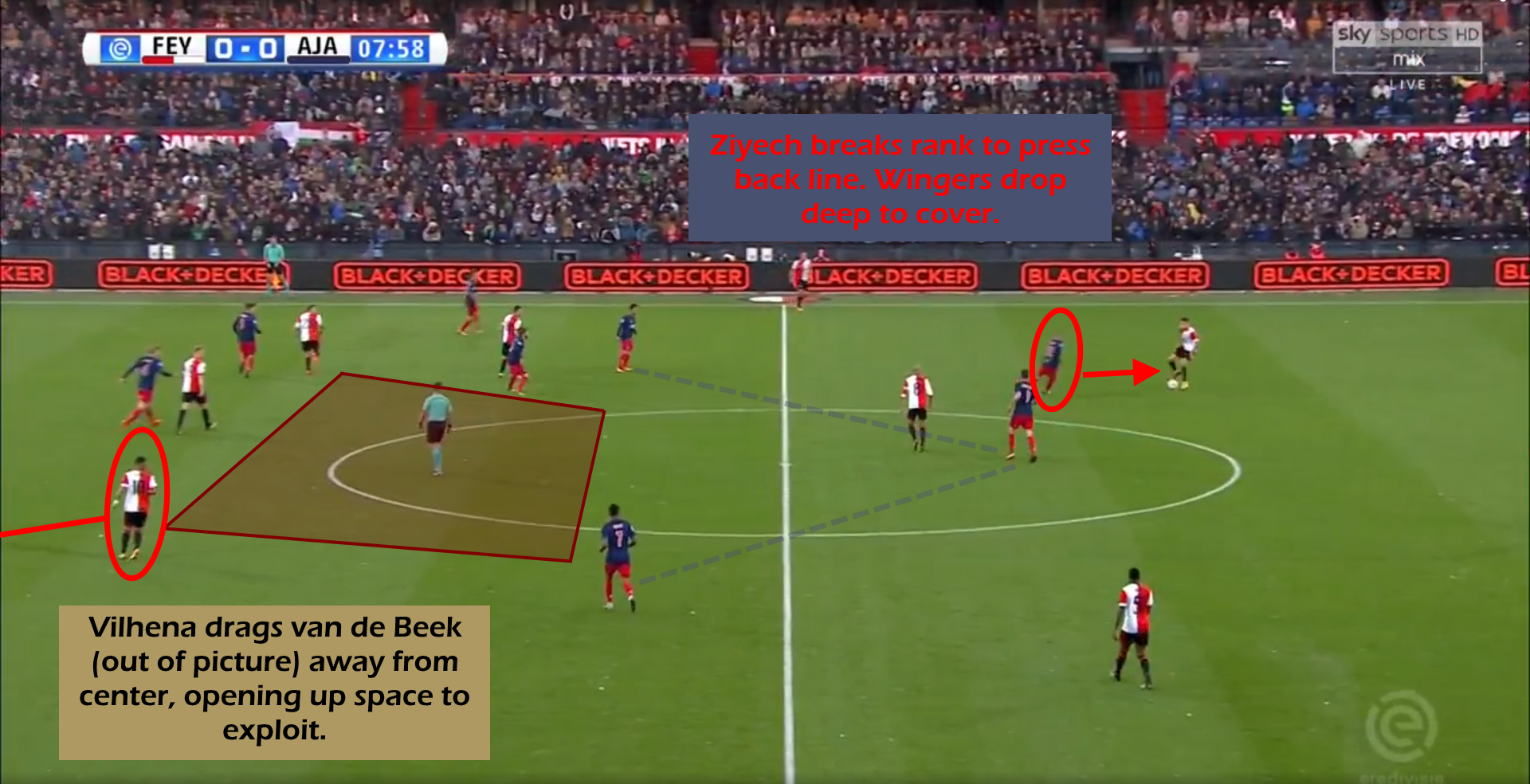 An example of this overzealousness can be seen below, when Hakim Ziyech steps out of the midfield to pressure Kevin Diks. The space this opens up in the midfield for Feyenoord to exploit is clear to see, especially as Vilhena and Toornstra push forward to drag their markers back. This shouldn't be a major issue if Kluivert and Neres are diligent in their defensive duties. A more serious threat, perhaps, could be if Ziyech chooses not to step out, leaving Feyenoord defenders space to hit a long pass. The last thing Ajax need is a lobbed ball to Jörgensen, who can easily defeat de Jong in an aerial duel. With quick and clinical wingers like Steven Berghuis and Sam Larsson out wide, Feyenoord may try and create chances with headed balls from Jörgensen to the wide men.
Ajax Counter-Pressing
Feyenoord will most definitely restrict as much space in their half as possible, leaving Ajax' build-up play stagnant and partially useless. Though the injection of de Jong may change this, ten Hag's men may have to rely on counter-attacks to create key chances. That's exactly what happened in the previous fixture; Donny van de Beek and Hakim Ziyech's fantastic work rate and pressing often won possession in Feyenoord's half, leading to opportunities behind the lines. David Neres obviously has the skill to make chances on quick breaks and Kluivert has the shot power to keep defenders honest when he cuts inside.
In the next sequence, we see somewhat of a 'counter-counter-press' in which Ajax thwarted Feyenoord's counter-attack with a counter of their own. Van de Beek does a great job of forcing Jerry St. Juste towards more blue shirts, which forces a back-pass and reset. Clearly van Bronckhorst wants to exploit Ajax' attacking football by hitting them on the counter, but great pressing by Ajax' attacking midfielders will prevent this.
Sometimes these counter-presses (Gegenpressing) attempts can create chances for the defending team. After a scoreless first half, Ajax broke the seal after a counter-press outside Feyenoord's box. Sofyan Amrabat dribbles into the midfield but his progress is stopped by Donny van de Beek. Feeling the pressure of Huntelaar behind him, Amrabat panics and tries to find Ridgeciano Haps to his left. However, David Neres anticipates the error, pounces upon the ball, and a simple through-ball to Huntelaar ends with the ball in the back of the net. I would be surprised if Erik ten Hag discouraged this type of counter-pressing because of how effective it was against Feyenoord last time.
Ajax Defensive Failings
When in transition, Ajax are often caught out because of the bodies they commit forward. On the contrary, if Feyenoord give the home side a chance to get back and set up their defense, Ajax can create a compact 6-man block to restrict space.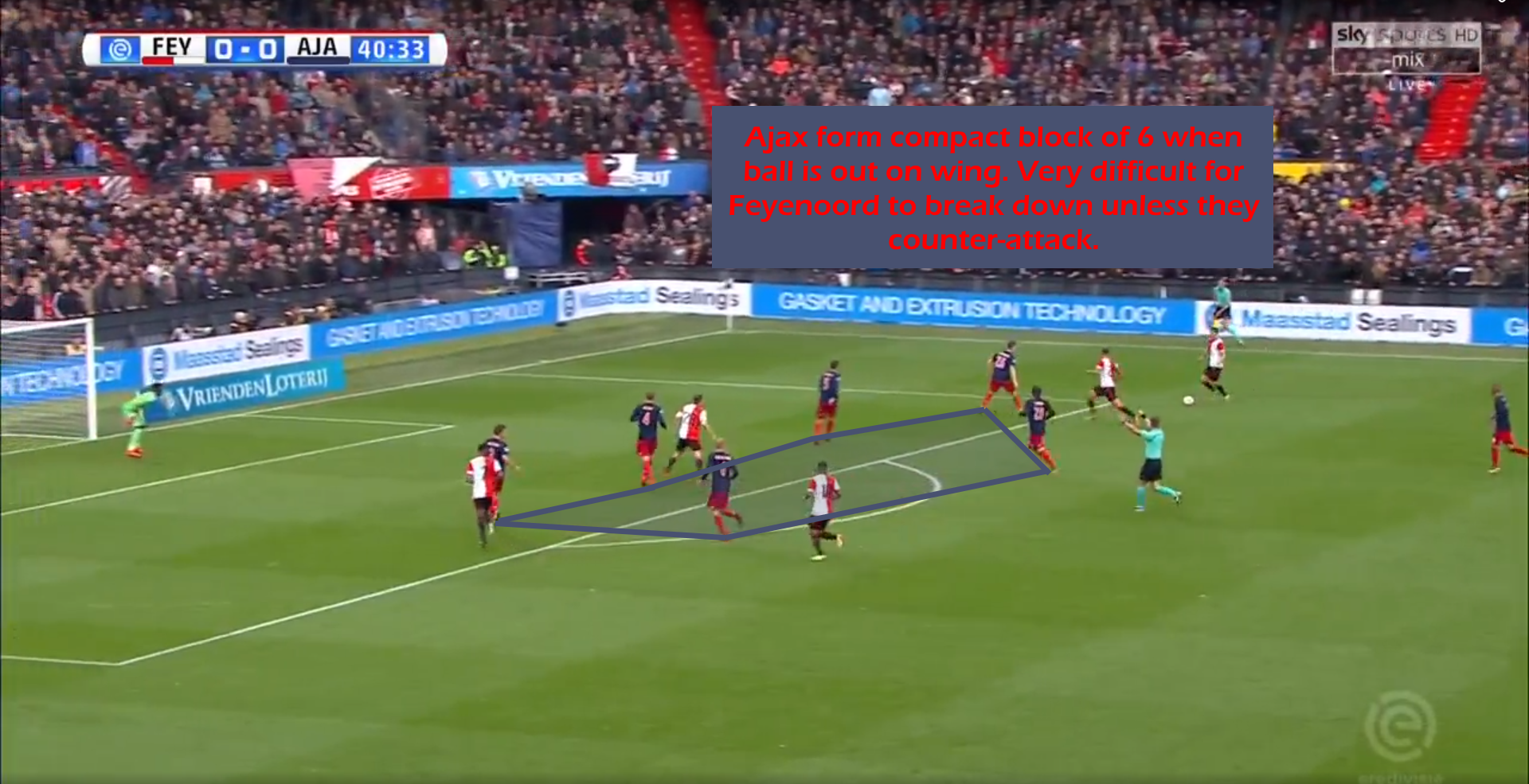 With the ball out wide, Nick Viergever is actually in position to defend when given time to recover. Schöne and van de Beek are very tight to the defensive line, meaning Feyenoord will have to look wide for space. As long as De Godenzonen win their aerial and defensive duels, Feyenoord's build-up play shouldn't be an issue.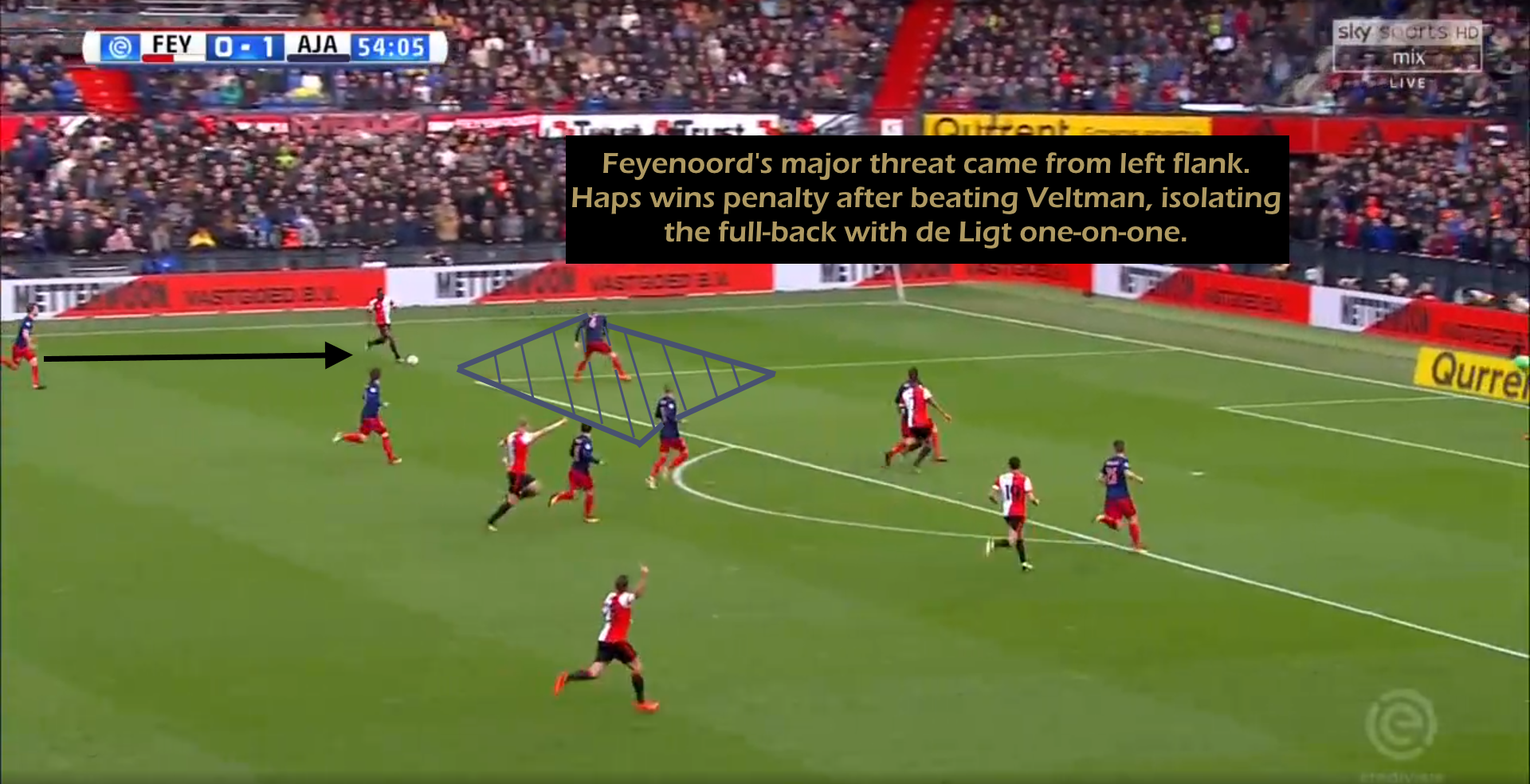 The problem is that winning defensive duels isn't always a guarantee with this team. Feyenoord won a penalty after Haps beat Veltman on the left flank, leaving de Ligt exposed one-on-one. If you haven't been able to tell by now, I'm not the biggest fan of our beloved captain Joël Veltman.
The Younes/Kluivert Dilemma
Don't get me wrong, I would have Justin Kluivert starting over Amin Younes every day of the week. Yet, re-watching game footage makes me realize that Younes does contribute a lot when you exclude his horrid final product.
For example, Ajax' second goal was set up when Younes won the ball high on the left wing. He quickly dished centrally to Ziyech, who unlocked Neres behind Feyenoord's line. To become completely untouchable, Kluivert needs to keep working on his stamina on defense.
It's not all good news for the German, though. Despite his obvious technical prowess, his physicality often comes into question.
In this screenshot, Schöne's passing option is Younes coming short to receive the ball. It's easily intercepted, leading to a massive chance for "them". Kluivert's more direct play style would lead me to believe that the ball would've been played over the top, keeping pressure on Feyenoord's center-backs and cutting out any threat of a dangerous interception in De Klassieker.
Conclusion
Ajax ran away with the three points in the Rotterdam De Klassieker last October, but the score wasn't reflective of the match flow. Results were equal after 45 minutes, while Feyenoord should've been up 2-1 after missing a penalty. Substitutes Kasper Dolberg and Siem de Jong scored the third and fourth goals; the Danish wonderkid is injured for Sunday's fixture, so the striking burden will fall solely on the shoulders of veteran Huntelaar.
We know that Ajax' build-up depends on how Feyenoord decide to press (centrally, wide, or none at all) and whether or not Frenkie de Jong plays as a defender. The immense counter-pressing of van de Beek and Ziyech should aid the defense against Feyenoord's attacks, but Jörgensen and Berghuis are clinical forwards who will make our inexperienced defense pay if the opportunity arises.
This match is no walkover, especially with Feyenoord in need of wins after a poor first half of the season. If Tagliafico starts, he mustn't overcommit when going forward. Ten Hag has a chance to prove himself tactically – if his game plan echoes that of Keizer's back in October, we could be in for a restrictive and jaded affair. However, if Frenkie de Jong slices open the midfield and Ziyech is on top of his game, we could be in for a goal fest.
Suggested De Klassieker 11: Onana – Veltman, de Ligt, de Jong, Tagliafico – van de Beek, Schöne, Ziyech – Neres, Huntelaar, Kluivert
Featured image provided by AD.nl.