The start of the season for Ajax Amsterdam has been tumultuous, controversial, and downright poor. After bravely overcoming the tragic injury suffered by promising squad member Abdelhak Nouri – an injury that has caused "severe and permanent brain damage"  – the team played OGC Nice to a 3-3 aggregate defeat on away goals to drop out of the Champions League. After that, Ajax lost on aggregate to Norwegian side Rosenborg, missing out on European football for the first time in 25 years. Stars like Kasper Dolberg and Hakim Ziyech seemingly couldn't cope with the pressure following the sales of other star players.
To make matters worse, domestic losses to Heracles and Vitesse (as well as a draw with ADO Den Haag) sees the club all the way down in sixth in the latest Eredivisie table. Fans have complained that new manager Marcel Keizer hasn't done enough tactically nor management-wise to help the situation.
So, where can we look for inspiration in a team bereft of much vigor? Wunderkind striker Kasper Dolberg has stumbled to start the season, failing to score in 10 appearances (bar a hat-trick against amateur side Scheveningen in the Dutch Cup). A Davinson Sánchez-less defense has been leaking in too many goals while the likes of Joël Veltman and Mitchell Dijks offer little going forward. I believe there is one player that we can look at to turn our floundering season around – Hakim Ziyech.
A Netherlands national with Moroccan heritage, Hakim Ziyech was born in the central Dutch town Dronten in 1993. Ziyech joined SC Heerenveen's youth academy in 2004, working all the way up to their first team by 2012. After performing exceptionally as a key member of Heerenveen's midfield, Hakim moved to FC Twente in 2014 for €3.5 million.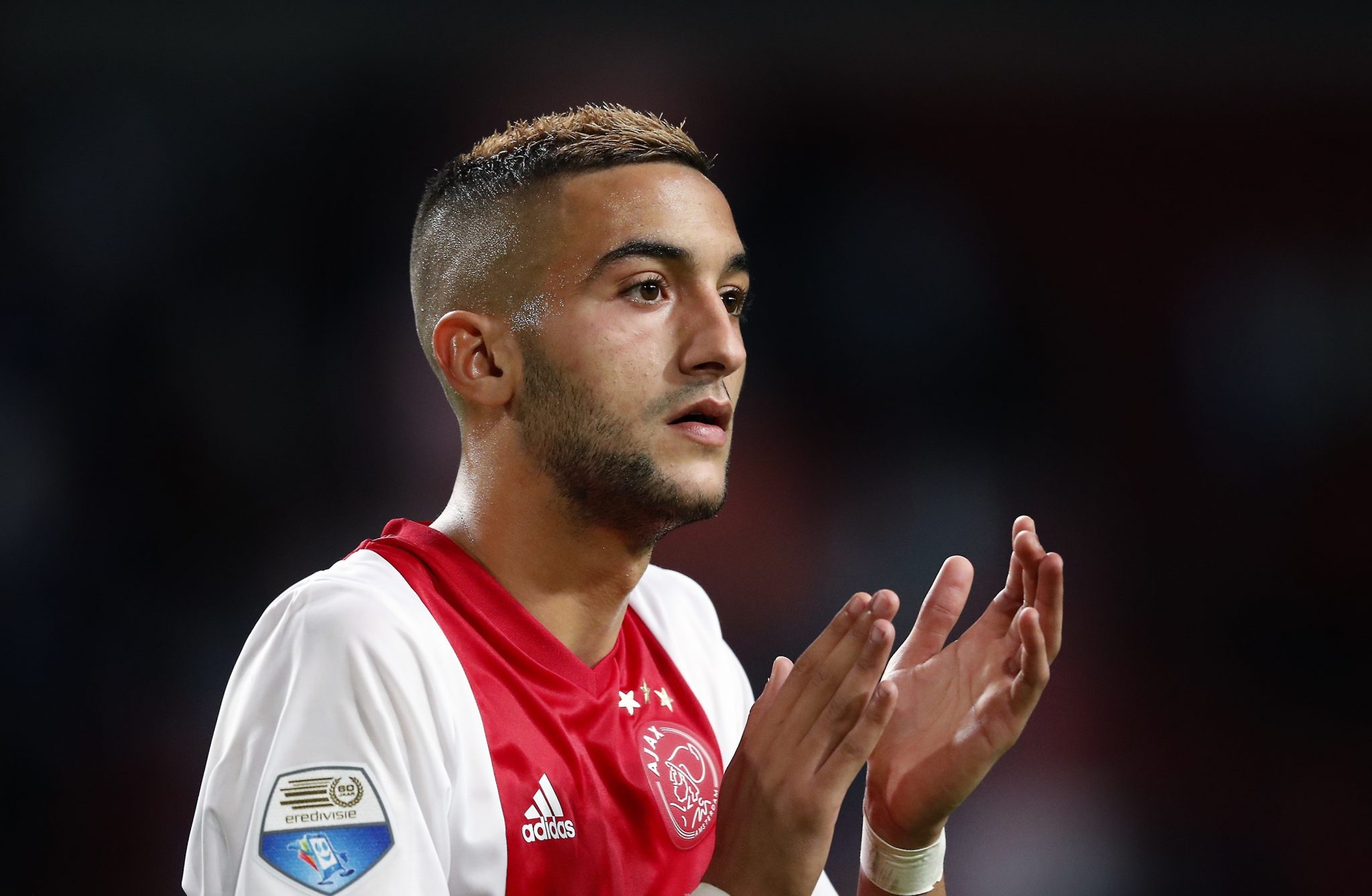 READ: "Ziyech should be rewarded with the captaincy"
Ziyech played exceptionally for Twente across two seasons, scoring 34 goals and assisting 30 in only 76 matches. حكيم زيياش (Hakim Ziyech in Arabic) finally got his big break in the summer of 2016 when Ajax purchased the playmaker for €11 million – quite the coup for a player considered by many to be the best player in the country.
With Davinson Sánchez and Davy Klaassen departing the club this summer, Hakim Ziyech has a lot of pressure on his shoulders to perform. The purpose of this article is to analyze just how well he has done that and how he can improve going forward. Hakim Ziyech is the key to success for Ajax Amsterdam – how successful will he make us?
Throughout the entirety of last season, I was a relatively harsh critic of Ziyech. I understood that he was key to our build-up and attacking play, but I thought he had a lot more to offer. He's too skilled to be constantly shooting long shots over the bar and committing unnecessary fouls.
Over the past few weeks working on this article, I've watched hours of Ziyech's match footage – shooting, passing, movement, positioning, defending: you name it. What I've realized is that the flashy Dutch/Moroccan playmaker isn't just Ajax' star man: he's crucial to the club's success this season.
As you'll read, my criticism wasn't completely unfounded, but the 24-year-old's positive contributions easily outweigh his shortcomings. In this piece, we'll explore nearly all aspects of Hakim's game: his passing, shooting, dribbling, defending, and more. I've also included plenty of immersive highlight videos (with music!) to give you a visual of the scenarios I'm mentioning.
Passing
With the Ajax build-up play looking quite stagnant under the new management, Hakim Ziyech is often seen as a last resort for getting the ball up the pitch. The Moroccan attempts seven long passes per match, with roughly half of them being completed. I'm quite impressed by this stat as many of these passes involve a high level of difficulty.
A staple of Ziyech's long-range passing is his lofted through ball. When he finds open space, he'll quickly adjust his body and prepare to have a go at a long ball with his left foot. Often times, the player he picks out is an overlapping full-back or winger.
Ziyech doesn't only use lofted through balls to widen the play. As you'll see in the video below, a lot of his dangerous passes come from a lofted through ball through the middle. In a Europa League qualifier against Rosenborg, Ziyech unlocked Klaas-Jan Huntelaar – turning an attack with no impotence into one full of promise.
Hakim often times will look for a through ball directly on the ground instead of a lofted one. These are activated by the playmaker more often when he's positioned in a more threatening position (closer to the box). It's extremely difficult for Eredivisie defenses to deal with these balls as they don't give the defenders a lot of time to react. Also – especially when positioned in the half-space – Ziyech's through balls can cut out two or three defenders in the blink of an eye.
I absolutely adore Hakim Ziyech's through balls. I believe that they are a major component to successful Ajax matches and lead to many scoring chances. The types of long balls I dislike, however, are lobbed balls. Though the difference is somewhat subjective, lobbed balls are more a case of simply launching a pass forward with no real intent to find a teammate running behind the lines.
Ziyech has attempted a lot of these passes this season but they rarely lead to goal-scoring chances. I believe these passes are the literal embodiment of Ajax's attacking frustrations. When nothing is going their way, which has been quite often this season, the team looks to play a more direct game. This almost always leads to someone like Ziyech being forced to launch a hopeful ball forward – certainly not what the Ajax staff preaches in the youth ranks.
When Hakim (the Eredivisie's best player, according to EA Sports) takes up a wide position in the attack, he often looks towards the middle for a pass. This is exactly what I like to see from a player; Ziyech understands that building up via the flanks is often futile. His short crosses into the middle are often successful and help to keep the defense on its toes.
Perhaps the best choice Ziyech often makes when positioned wide is to switch the play to the opposite flank. These passes are made either in an attempt to get out of a hectic situation or to simply move the opposition's defending structure to free up more space. Switching the ball across the pitch is a daunting task for many players, especially in a league like the Eredivisie where many teams deploy a pressing 4-3-3.
I much prefer these sorts of passes to the aforementioned "lobbed balls". The cross-field pass has true meaning. When watching the video below, keep in mind the defensive team's structure. I challenge you to watch how much space is freed up once a successful pass is made to a player on the other side of the pitch.
It is important to note that a majority of the passes Ziyech attempts during a match are not these long passes. I've simply highlighted them as I feel they are a crucial element to not only understanding how Hakim Ziyech plays, but also how Ajax succeed going forward as a squad.
Dribbling
In seven Eredivisie matches this season, Ziyech has successfully completed roughly three dribbles per game at a 66% success rate. As a player who retains a large amount of possession for the side, that's a very good ratio of duels won to duels lost. In my opinion, Ziyech's body posture doesn't lend itself to great dribbling – he often seems like he's standing up too tall, not bending his knees to provide maximum acceleration capability. Nevertheless, he is good at taking on and beating your average Eredivisie defender.
A lot of Ziyech's dribbling isn't actually what you'd imagine it to be (taking on a marker one-on-one). Instead, often times Ziyech is attempting to get out of situations where he's being covered by two or three defenders. Lucky for Ajax, he often times has the skill to get out of those situations and provide a crisp pass to a teammate. This ability can be seen in more detail in the video below.
Shooting
To begin the Eredivisie season, we've witnessed Mr. Ziyech attempt nearly five-and-a-half shots per match. For some perspective, Huntelaar has attempted the second-most in the team, with only 4.1 per match. Perhaps the more interesting fact is that 3.9 of these 5.4 shots are from outside the box (72%).
My colleague Kabir Kohli can attest to the fact that my most infuriating trigger is when Hakim Ziyech attempts a long shot. I can state for a fact that none of his goals this season have come from them, but he continues to fire away at will. Often times these shots aren't even in good positions and end up being blocked. Most infuriatingly, there is often an open Kasper Dolberg or Amin Younes to pass to. A part of me thinks that our Danish striker wouldn't be on the goal-dry run he's on if Ziyech simply passed more instead of shooting from range.
With that being said, Ziyech has a special ability to strike the ball with his left foot. This usually becomes apparent when he passes to teammates, but can also be seen during a few of his shot attempts as well. When Ajax's star playmaker finds space within the box, he won't hesitate to have a crack at goal. These shots are typically much more accurate than his longshots and I believe he should continue to take these.
Defending
"In my teams, the goalie is the first attacker, and the striker the first defender." Besides being an incredibly talented and intelligent player and manager, Johan Cruijff was probably the single most influential person on modern-day European football. If there's one thing that should be learned from Cruijff's lessons, it's that no player has one structured role. In order to be a truly successful team, players must be able to both defend and attack (and everything in between). That's where Hakim Ziyech comes into play.
Disregarding his incredible technique on the ball, I continue to assert that his greatest contribution to Ajax is his defending. Crazy right? That's what I thought when someone first told me that, but after watching Ziyech on a weekly basis I can say that it is quite true. When Ajax lose the ball, watch how hard he works to get back on defense.
The pure determination to sprint back to defend after being forced to act as the team's primary offensive outlet is nothing short of heroic. If I had to play in Ziyech's role for 90 minutes, I'm sure I'd be a lot less critical of his sporadic mental lapses while attacking. The fact is that it takes a certain level of double-consciousness – being able to take a step back and understand one's place in the team – to realize that you, as a playmaker, have a lot of pressure to help your team defend. For that, Hakim Ziyech, I salute you.
For all the defensive pressing Ziyech does, it more often than not concludes with a foul or being dribbled past. The Moroccan has attempted 2.4 tackles per game in Holland's top league but only 0.9 are actually successful. In the grand scheme of Ajax's pressing play it doesn't much matter whether or not Ziyech successfully wins the ball back very often, as long as he's not being skinned and putting the defenders at risk.
In the video below, it is often good enough for Ziyech simply to stop the ball controller from advancing up the pitch. This allows Ajax's full-backs and other midfielders to track back.
To think that Ziyech has played all 90 minutes of Ajax's 7 Eredivisie matches, as well as the European matches earlier in the season, is quite the testament to his stamina. Not only does he have the endurance to finish matches without his energy levels or mental concentration drastically dropping off, but he does it on a weekly basis. That's the true mark of a determined player – not only during matches, but also during rest days and the off-season. Ziyech takes care of his body and prepares well for matches.
Positioning
Hakim Ziyech has taken up a role as the left-sided midfielder in the 4-3-3 most of the time this season, but occasionally is deployed in the centre. He's been most successful on the left though, probably because the likes of Lasse Schøne, Donny van de Beek, or Frenkie de Jong can provide cover in the centre of the pitch. This gives Ziyech the room and permission to roam forward and create for himself or others.
As you can see from the positioning charts, the 24-year-old performs attacking duels (mostly dribbles) and defending duels (mostly tackles) all over the pitch. Ziyech is clearly given the consent to roam free throughout the 90 minutes, something that he has relished in thus far. My wish is that this freedom will allow him more time on the ball and, thus, more experience in making better on-the-ball decisions.
Conclusion
Hakim Ziyech isn't the most talented player to play in the red and white during the new millennium, but he has the potential to be a legendary player if he decides to stay for years longer. He has an incredible talent on the ball – something that was surely developed by playing on the streets of the Netherlands for hours on end as a kid. Ziyech's work rate and vision to pick out a pass are unlike any other player in the Eredivisie. All in all, we are lucky to still have a player of Hakim Ziyech's stature with all of the mismanagement going on at the club.
Match statistics provided by WhoScored. Player facts and history provided by Transfermarkt. Match footage obtained legally through WyScout. Every video shown in this article is for analytical usage only.