Nigel de Jong is a player arguably most famous for his performance during the 2010 World Cup Final. One strike in particular stands out; a semi-lethal kick hitting Xabi Alonso in the chest, resulting in a yellow card for the Dutch defensive midfielder. A lesser-known fact is that he joined the Ajax academy in 1993. In fact, the season after his debut for the first team (2003/2004), he won the Eredivisie title with Ajax before transferring to Bundesliga side HSV in 2006.
Funnily enough, 2006 is the year another "de Jong" would make his first appearance in the Ajax youth academy. Siem de Jong grew into a solid starting 11 midfielder who won the Eredivisie title no less than 4 times during his stay at the club. During the 2014 summer transfer window, Siem de Jong completed a transfer to Newcastle united, leaving Amsterdam behind after 8 years.
The following season, 18 year old Frenkie de Jong transferred to Ajax from Dutch side Willem II, continuing the "de Jong" lineage. Although the three players are not blood related, they share some similarities nonetheless: all three of them are midfielders of some sort and all three of them share the same last name. However, only two of them managed to win the Eredivisie title as an Ajax player. One thing is for sure though; Frenkie de Jong will be eager enough to make it 3 out of 3.
Who is Frenkie de Jong?
De Jong started playing football in the village of Arkel, which happens to be his place of birth as well. At the age of 7, Frenkie completed two trials: one at Dutch giants Feyenoord and one at (at the time) mid-table club Willem II. Surprisingly, Frenkie choose the Tilburg club over Feyenoord, where he would progress through all the youth teams before making his debut at the senior side at the age of 17.
His father describes the 20 year old as a modest individual who doesn't care much for expensive clothes or other material belongings. Instead, the midfielder gained his popularity with his sublime football skills. Despite being small of stature, he always played with the older kids and still managed to surpass them.
According to his former youth trainer, Frenkie always did exceptionally well in rondo's and other passing and positioning games, due to his sublime ball control, vision and passing. In 2015 Frenkie made his debut for the senior side of Willem II, resulting in more than a few clubs fighting for his signature. He ultimately choose Ajax over PSV and the other clubs, and has since made his debut for the first team of the Amsterdammers last season, even appearing in the Europa League final again Manchester United.
Bossing the midfield
Frenkie de Jong possesses all the traits a manager wishes his playmaker to have: vision, ability to dictate the play, a good dribble and an excellent first touch. The latter two are often combined in a move the midfielder often executes when receiving the ball by combining a body feint with a first touch into open space, leaving his marker all over the place.
It was this particular move that caught the attention of Ajax's director of football Marc Overmars, whilst watching a match of Oranje under-16 around 5 years ago. Overmars states: "Frenkie was not in the starting eleven, but he was the only one that stood out for me. In fact, he was short and skinny, but with one move, one touch, he caught my attention. With his first touch he created 2 meters for himself and he was gone. This is still his strong suit nowadays, but at that moment I knew that we should try to sign him".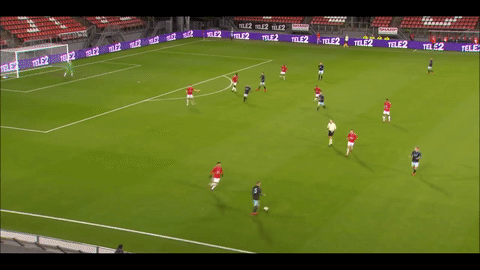 The agile midfielder did not disappoint at De Godenzonen. During the 2016/2017 season, Jong Ajax did extremely well, finishing 2nd in the Jupiler League. With Donny van de Beek often joining the senior side, Abdelhak Nouri and Frenkie de Jong partnered up and successfully broke down the opponent's defense many a time. His performances were not overlooked as De Jong was eventually presented with the Talent of the Year award of the Jupiler League. In 31 appearances for Jong Ajax, the 20 year old midfielder managed to score 6 and assist 8.
However, it would be a mistake to judge his season on these statistics alone, because De Jong's game is not about goals and assists; it is about creating and finding space in a Modric-esque fashion. Much like the Croatian midfielder, De Jong is extremely comfortable on the ball and knows when to distribute the ball from the center of the pitch and when to dribble in an area where the numbers of players are equal, thus creating an overload situation.
(In this move, Frenkie passes the ball to the defender, and then proceeds to create space for the winger to receive the ball. With a clever body feint off the ball Frenkie creates space for himself and receives the ball a bit higher on the pitch, clear of his marker)
Near the end of the season, Peter Bosz rewarded him with a handful of call-ups for the senior side, where he impressed especially in the 4-0 victory against Go Ahead Eagles (pre-assist and a goal). Frenkie will be looking to continue this trend current season. By the looks of it, Marcel Keizer will use Ziyech, Van de Beek and Schöne as his preferred midfield trio, with de Jong as prime contender to step in wherever necessary. This season De Jong will most likely float between bench and starting eleven, and, with ample playtime, will most certainly develop himself to a solid midfielder challenging for a place in the starting line-up in the nearby future.
All the best bits of Frenkie de Jong's Eredivisie debut. #ajax pic.twitter.com/sc7Ldg0j4M

— AjaxDaily (@ajaxdailydotcom) 14 februari 2017