Impressed? You should be. Ajax put on a dominating display against Lyon, beating them 4-1. Coming away as victors, Ajax are in the driving seat to the Europa League Final.
After a disappointing result in the league, the Amsterdammers were looking to make the most of their opportunity in the Europa League. They did just that. Ajax were without Viergever and Veltman due to suspension, apart from that they were at full strength. Coming in for Viergever and Veltman were Riedewald and Tete, both of whom put up a good display. Going into the game it appeared that, at least statistically, everything was surprisingly in favour of the home team. Ajax are unbeaten against Lyon in European competitions and Lyon have failed to score in their last three meeting with Ajax. Home advantage and statistics put Ajax in the driving seat. Ajax made sure to drive it home.
Becoming known for playing a young team, the Ajax XI of 22 years and 137 days was the second youngest in Europeans competitions this season. They continue to prove that, despite their age and experience on the big stage, they perform on a very high level. In the opening 10 minutes, the game seemed fairly even. Both teams looked to put their stamp on the game. In those 10 minutes, Ajax had 0 shots, 54.8% possession, 75 pass success % (4 Ajax players had 100 pass success %), 3 aerials won and were dispossessed once. For comparison, Lyon had 2 shots, 45.2% possess, 68 pass success % (3 Lyon plays had 100 pass success %), 0 aerials won and were dispossessed twice. A fairly even game at this stage. Ajax had the upper hand in terms of possession, but Lyon had 2 shots with 1 on target. At this stage the game could go either way. That all change when Ajax scored in the 25th minute when Bertrand Traoré put Ajax ahead. Ziyech delivered a free kick into the box and Traoré put it in the back of the net. That was the home team's first cross of the game. The perfect way to have it. At this stage, Traoré had now been directly involved in more goals (6) than any other Ajax player in the Europa League this season. This was only the beginning for Ajax. It got better. It was time for Dolberg to have his fun. In the 34th minute he doubled the lead. Traoré with the assist, Dolberg with the finish. Dolberg has now scored 20 goals across all competitions this season. He is also the 3rd youngest player in Europa League History to reach 5 goals. Halftime statistics gave Lyon the advantage in terms of possession with 51.1% and dribbles with 4. Ajax had 48.9% possession, 71 pass success %, 17 aerials won, 21 tackles, with Lyon being disposed 14 times. Advantage Ajax.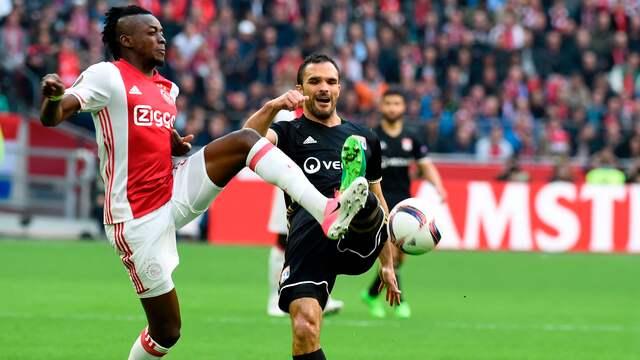 Ajax kept the pedal to the floor. In the second half they came out flying. Keeping up the pace and intensity that has become part of the identity under Bosz. It only took three minutes for the home team to increase the lead. Tousart makes a mistake in the Lyon half, a mistake that proved to be costly. Ziyech pounced on this opportunity and gained possession for Ajax. Ziyech played a through ball to Younes who slotted it away to make it 3-0. Younes has now scored more goals in the Europa League than in the Eredivisie. Making the most of being on the European stage. Unfortunately, Lyon were able to get an away goal in the 65th minute. But Ajax continued in their style of play. Not stopping until the final whistle. It paid off. Yet again, Ziyech set up another goal. In the 70th minute, Ziyech put the ball into the box and Traoré made it 4-1. It was the first time a Dutch team has scored more than 4 goals in European final or semi-final since Ajax vs Bayern Munich in 1995. With the 1990s in mind, it appears that Ajax are getting that feeling again. They put on such a performance that drew comparison to the impressive performances in the 90s. Lyon didn't stand a chance in this game. From the beginning, the home team set out to put their identity on the game. It was all she wrote. The game finished with Ajax having 46.4% possession, 24 shots (16 on target), 72 pass success %, 23 aerials won, 35 tackles, and dispossessed Lyon 23 times. Ajax came away as the victors, and are now in a strong position to reach the Europa League Final.
A number of players put on impressive displays in this game. Tete, Dolberg, Younes, Ziyech and Traoré stand out. As a result of his impressive performance, Ziyech is the first player in Europa League history to get a hat-trick of assists in a semi-final or a final. A true playmaker. Dolberg continues to shine at Ajax. A testament to the culture and system that the Amsterdammers employ. Tete, coming in for Veltman, put up a fine display with an 81 pass success %, 3 aerials won, 7 tackles, and dispossessing Lyon once. This could be a sign of more to come from Tete. Younes continues to prove that he is an important asset on the left. He game away from the game with a goal, 5 shots, 81 pass success %, and 7 dribbles. Traoré arguable one of his best games in an Ajax shirt. He put up a man of the match display. Lyon couldn't handle him. He did everything. 2 goals, 1 assist, 7 aerials won, 6 shots, 5 chances created, and 3 interceptions. Domination. A very impressive display form the team. They will be hoping they can hold onto this advantage and reach the Europa League Final. It's destiny.