If you are a supporter of Dutch giants Ajax Amsterdam you are much luckier than the average footy fan. Not only do we get to see our team succeed (for the most part) at the domestic and, occasionally, continental level, but the Amsterdammers also provide viewers with a constant flow of new talent from it's acclaimed youth academy.
We are so lucky, in fact, that it is not very difficult to compile a long list of young players that show superb potential. These rankings are not based solely on current ability; instead, mostly on how good of a player I think he will become. Without further ado, here are the 19 biggest under 20 talents of De Toekomst.
Honorable mentions: Teun Bijleveld, Danilho Doekhi, Azor Matusiwa, Zian Flemming
All players were under the age of 20 as of August 1, 2017. Player statistics provided by Transfermarkt.com.
Noussair Mazraoui
Kicking things off at #19 is Noussair Mazraoui: a 19-year-old Dutch/Moroccan player who took up an integral role with Jong Ajax last season. Mazraoui is quite the interesting player; he has played a vast number of differing positions for Ajax's reserve side. He played most often as a centre-midfielder, right-back, and a left-winger, as well as centre-back. Perhaps this is down to Marcel Keizer not quite finding Mazraoui's true strengths as a player, or simply because he has a wide-ranging set of skills that allow him to marshal a defense one night and run rampant down the wing another.
Noussair Mazraoui's long shots are certainly worthy of note as I feel they represent the pros and cons of his game. The Leiderdrop-born teenager has scored some amazing goals that prove he's confident on the ball and has good technique, but it also says something to his overall mentality. Mazraoui feels like he needs to take over the game by scoring the winning goal, but this will often lead to a lost possession at the top level. This is something we've seen happen far too much from Hakim Ziyech in the first team. If Mazraoui can capitalize on Keizer's faith in him with a few cameo appearances in low-importance matches this season, his strengths can certainly overcome the challenges he will face.
Mees de Wit
Ajax's Under-19 squad had a fantastic 2016/2017 season, finding themselves nine points clear of second-placed PSV at the top of the table by the season's end. There's surely a lot of talent packed into the second-to-last step before the first team, and the epitome of that talent is Mees de Wit. A left winger who will probably get some quality playing time with Jong Ajax next season, Mees is a fast, darty, and technically adroit 19-year-old.
De Wit played absolutely out of his mind in the first half of the Under-19 season. His seven goals and two assists in only eight matches helped lead Ajax to an almost-perfect Preliminary Stage (marred only by two draws). I'll level with you though: Mees began to cool off after the cold winter break. No goals and three assists in nine matches was certainly below the standard he set to start the season, but the winger was nevertheless not involved in one U-19 squad defeat.
The strongest part of Mees' game is his crossing ability – he's ridiculously good at it. Whether it is on the left or right flank, with his strong or weak foot, de Wit always seems to deliver his crosses directly to the heads or boots of his team's striker. Mees' ball control and speed allow him to maraud into these advantageous positions to cross, either near the touchline or top of the box, but he'll need to adapt his dribbling to counter tighter defenders at the professional level. Mees de Wit has the potential to be a first team player at Ajax; this season with Jong Ajax is his chance to prove that.
Mateusz Górski
Poland is an awesome nation known for its fantastic exports: agriculture, machinery, and most importantly, goalkeepers. Mateusz Górski is the first foreign player to make the list, having recently made a move from Wrocław Academy in his home country. The 17-year-old shot-stopper has me extremely excited; from what I've seen (on grainy YouTube videos) he is a fantastic sweeper-keeper.
Born in the Polish town Duszniki-Zdrój on the border of Czechia, Górski has grown up in a youth system at Wrocław that seems to exist for the sole reason of developing young players so they can build successful careers. Górski's transfer to Ajax has made everyone at the club proud. The training clips of the keeper show his unwavering work ethic, great reactions, and confidence to play outside the box, both literally and figuratively. Ajax looks to have a superb goalkeeper on its hands, and it's only a matter of time until we get to see him in action for our youth teams.
Jurgen Ekkelenkamp
The big criticism of journalists who predict how good a young player will become is that they are projecting a false image on a 'blank canvas', or a player who could be amazing but likely won't. Saying a player like Jurgen Ekkelenkamp, a versatile, 17-year-old midfielder currently breaking into the Under-19's, is a great prospect at the club can be seen as quite speculative. A Dutch player who is still playing at his age level doesn't seem like anything special. However, if you watch Ekkelenkamp play I am sure he won't disappoint.
Jurgen Ekkelenkamp always seems to stand out when it matters. Watching the lanky teenager roam around on the pitch may remind one of your average, unspectacular footballer. However, the versatile playmaker is always the one to make the key through ball, put an end to an opposition attack, or get forward and score a game-winning goal. In a way, Ekkelenkamp reminds me of former captain Davy Klaassen. He has played anywhere from striker to defensive midfielder in the youth ranks, but his best role seems to be as some sort of a 'support striker'.
It's certainly very hard to predict potential, but I believe Jurgen Ekkelenkamp has what it takes to break into the Ajax first team in the future. His technical ability, goal-scoring prowess, and all-around play makes him a player to watch over the next few seasons.
Mitchell Bakker
Despite just turning 17 in June, Mitchell Bakker has been a first team left-back for Ajax's Under-19's for about a year. Having made his U-19 debut at the ripe age of 15, Bakker is the perfect example of playing above your age group if you're good enough. Some may say that he's only being selected because of Ajax's dearth of talent at the position. I think it's because the youth coaches see how much potential the Dutch U-17 International has.
I covered Bakker's strengths and weaknesses in detail a few months ago, but here's my ten cents on the defender. The youngster is physically excellent: quick to accelerate, fast on and off the ball, and has an athletic build. Bakker's great technique with the ball is represented with his cheer-inducing free kicks and pin-point cross accuracy. If his teammates can create space for him to bomb down the left wing, Mitchell has the speed to get to the ball and the ability to send in an accurate pass to create a scoring chance.
However, a lot is left to be improved upon on the other side of the pitch. Mitchell Bakker is always seemingly lagging behind his marker, most often times because he is the last defender to sprint back. His tackles are often inaccurate and haphazard. Despite these flaws to his defensive game, I believe that his raw talent and evident skill with the ball can ensure he's a superb two-way player for Ajax: a great representation of Totaal Voetbal.
Saku Ylätupa
Having just turned 18 on August 4th, Finnish youth prodigy Saku Ylätupa joined Ajax from HJK Helsinki. If you know me, you know my affinity for Scandinavian players (especially those at Ajax), so I'm quite pleased with this transfer. Ylätupa has the potential to become a great player for the first team and the signing gives me great hope for our frontline in the coming years.
Saku came through the Helsinki youth academy and made his debut for the reserves as a sprightly 15-year-old striker. After scoring 17 goals in only 31 matches across two seasons for the reserves, Ylätupa made his full debut for Helsinki before being loaned out to fellow Veikkausliiga (first division) club Rovaniemen Palloseura. The Finnish striker tallied three goals and three assists in 17 matches for the club, which isn't disappointing for a debut season at a top league.
Ylätupa has now made the switch to Amsterdam and it's easy to see why Ajax's scouts recommended him. You often hear about a team completely dominating a match, but one moment of brilliance for the opposition sees them sink to defeat. Saku Ylätupa is just the player who can create those moments. He keeps the ball extremely tight to his body when dribbling to avoid incoming tackles and has the flair to fake-out more than one challenger when they close down.
Saku, often deployed as a support striker, has the awareness on the pitch to know where he needs to be to best aid his team. If the situation calls for a cross, or instead a shot, or maybe even a dribble, he knows which one to choose. In terms of weaknesses, Ylätupa needs to become more clinical in front of goal. His goal tallies from the youth level didn't convert seamlessly to professional football, which is mostly down to the youngster missing easy chances in front of the net. Give him a few years under Ajax's elite coaches though, and you'll get a player who maybe, just maybe can rival the icon status of fellow Finnish footballer Jari Litmanen.
Dani de Wit
The Under-19's long-tenured midfielder and captain, Dani de Wit looks poised for a breakout season with Jong Ajax this year. The 19-year-old midfielder has featured across the youth ranks for the Netherlands, showing his talents fifteen times for the Dutch U-19's thus far. Dani is often deployed as a classic central midfielder but more than often roams forward as an advanced playmaker. This makes him a strong asset to any team; de Wit is a link between defense and attack on offense with the capability to get back and defend as well.
Dani de Wit doesn't wow crowds with his technical ability nor his physical presence. What makes the Ajax youngster so good is his awareness on the pitch. De Wit knows where to be at any given moment in the midfield. Often times what teammates want is space to work, which is something that Dani gives them.
De Wit's constant running forward often leads to goals. His 6 in 22 U-19 league matches is a good return for a midfielder. De Wit's passing is also very good – he consistently unlocks wingers for an easy cross in open space. Dani de Wit may not be the most flashy player, but his efforts make the game so much easier for his teammates.
Szabolcs Schön
Still only 16-years-old, Hungarian playmaker Szabolcs Schön is the youngest player on this list. The midfielder, who can play on both wings as well, is a joy to watch. Schön had his skills on show during the Future Cup this year where his rapid pace and great dribbling was a joy to watch. The Hungarian U-17 international looks set to join the Under-19's this season, which really shows how fondly he's looked upon at Ajax.
Schön looks like an ideal winger for Ajax's fluid system: comfortable running down the flanks or cutting inside on either flank. He's a threat from basically anywhere in the final third. The Hungarian's powerful left foot keeps defenders tight to him, which allows Szabolcs to drive past them with a quick dribble. Schön's crossing is also threatnening, while his speed on and off the ball makes him a dynamic threat when Ajax has the ball.
It's early days for Szabolcs Schön, but the player who recently transferred from Budapest Honvéd to Ajax (with fellow Hungarian youngster Olivér Horváth) is being backed by many to be the next best thing at the Johan Cruijff Arena.
Noa Lang
One of the Under-19's bright spots last season was 18-year-old midfielder Noa Lang. The former Feyenoord youth player has risen through the ranks in Amsterdam, finding himself the scorer of eight goals in 29 appearances for the U-19's. What immediately sticks out when watching Lang is his supreme physical ability. His strength on the ball, stamina throughout the match, and speed on and off the ball are all seemingly miles ahead of his youth counterparts.
Noa Lang's technical abilities don't waver too much in the face of his physicality either. Lang has shown a great finishing ability, as well as tackling and passing. He always seems to pop up in the big moments, exemplified by his goal in the UEFA Youth League at Real Madrid. Lang will likely spend another year with the U-19's but don't be surprised to see him with the first team within a couple seasons.
Victor Jensen
When a club like FC København requests €3.5 million for one of its 17-year-olds, you know he's a good player. When a club like Ajax that looks for the best possible deal on young players is satisfied with paying that fee, you know he's a special talent. That's exactly what happened with Danish playmaker Victor Jensen this summer as he made the move from the Scandinavian giants to Amsterdam.
When speaking to AjaxTV following his transfer, Jensen noted "I shoot good with both of my feet and I'm fast. I have good dribbling ability," Jensen continued, "I'm a very aggressive player". While this is evidence of Jensen's good self-awareness, there's certainly more to his game than just his physicality, finishing, dribbling, and confidence (although these are all very high).
Something that surfaces immediately after watching clips of Victor is his great awareness on the pitch, especially in the box. He loves to take on and beat his marker, but is also very good at positioning himself for an open shot in threatening positions. Jensen's well-weighted through balls have an uncanny ability to break defensive lines, as well as the hearts of those supporting opposing teams. Victor Jensen is one to watch as he joins up with the Under-19's this season.
Kaj Sierhuis
When a striker performs a bicycle kick from a cross and sees it loop over the goalkeeper and in, it really says two things. One: the player has the utmost confidence in his abilities. Two: he does, in fact, have those abilities. Kaj Sierhuis became a semi-internet sensation last year when he pulled off the ambitious overhead kick in the UEFA Youth League. However, Kaj is more than just a YouTube sensation, and most of those at Ajax have known this for a while.
Sierhuis has been immense up front for the Under-19's both domestically and in the Youth League. The Dutch striker, born in Athens, has scored an unbelievable 46 goals in 57 appearances for the U-19's. Yes, you read that correctly. Sierhuis' great knack for getting into open positions, constantly finding space through channels in and outside of the box, is what makes him such a threat to score goals.
That's not to say his finishing isn't great though, because it is. Kaj's link-up play with fellow attackers is also good. Many of his passes occur in the midfield because he drops deep in somewhat of a false nine role, similar to the play style of Ajax striker Kasper Dolberg. Sierhuis is also a superb header of the ball, which helps him tally those extra goals that wouldn't happen with just his feet. In conclusion, Kaj Sierhuis should be getting first team football with Jong Ajax this season. If he does, the 19-year-old will make a huge impact in the Dutch Jupiler League and beyond in the coming seasons.
Deyovaisio Zeefuik
Deyovaisio Zeefuik's first team debut at the end of last season was a big reward for a lot of hard work. The right-back has come through the youth ranks to become a first team defender for Jong Ajax. Now a part of the senior squad to start the season, Zeefuik could be the main backup to Joël Veltman on the right side of Ajax's defense. The Dutch youth international is an all-around fullback who understands his defensive duties but also gets forward often.
Zeefuik has played centre-back before, which exemplifies his defensive abilities. He's very smart with his tackling and puts himself in good defensive positions. Zeefuik isn't the quickest player on the pitch which sometimes lets him down when running back, but he's very smart so it shouldn't be too much of a concern. Deyovaiso's technical abilities, especially his crossing and dribbling, are very good for a defender. This allows for Ajax to look to him for width on the right side to help spread the play.
With the sale of Kenny Tete and a lack of an immediate replacement at right-back, this could be the breakout season for Deyovaisio Zeefuik. With Marcel Keizer, former Jong Ajax head coach who worked with Zeefuik for most of last season, having been appointed as manager of the first team, Zeefuik might have confidence that the pair's familiarity with each other may lead to a good amount of playing time.
Vaclav Černý
Once heralded as Ajax's next superstar winger, opinions of Černý have cooled down recently. The Czech winger, who often plays on the right side despite being left-footed, only appeared in five Eredivisie matches last season. Some reports have revealed a supposed unhappiness at Ajax and a willingness to leave this summer, but the aforementioned appointment of Keizer may be a glimmer of hope for Vaclav.
Whether he stays or goes, Černý is no doubt an extremely talented player. The inverted winger has great technique on the ball. Černý's dribbling often leaves defenders dumbfounded and his free kicks produce a similar reaction from defeated goalkeepers. His long shots after cutting inside are reminiscent of Arjen Robben, as is his speed running down the flank. Černý can play out wide on the left as well which makes him a versatile asset to Ajax's attack.
The Czech U-21 international, who made the move to Ajax in 2014, probably deserves to be receiving more playing time than he's gotten over the years at the club. That being said, the signing of David Neres and emergence of Justin Kluivert have really dampened Černý's chances in the first team unless he plays in a less natural left-wing role. It remains to be seen what the future holds for the lively winger with loads of flair, so enjoy his moments of brilliance while you can.
Ché Nunnely
Ever-present on the flanks for the U-19's, Ché Nunnely has been one of the most exciting young talents in the academy for years. Only 18, the Dutch winger is comfortable on both flanks, but his strengths follow those of traditional wingers. Nunnely favors his strong right foot, so when he plays out wide on the right he's often times more effective.
Ché is first and foremost an amazing on-the-ball player. His first touch is sublime and he beats defenders at the youth level with ease. Once he frees himself inside the box, his short passes and finishing abilities are great, as are his crosses from deeper. But if you've ever managed Ajax on Football Manager, you'll know Nunnely as the kid who develops into a 19-20 pace player (one of the fastest in the game). This is no fluke; he is extremely fast running down the wing, which is beneficial both offensively and defensively.
Ché Nunnely has the physical presence to compete at the highest level as well as a first touch and ball control that will certainly make it difficult for Eredivisie defenders to tackle him. If he keeps improving this season and gets some solid minutes for Jong Ajax, I can see Nunnely becoming a key member of the squad by the time the 2018/19 season rolls around.
Sebastian Pasquali
It says a lot about a player that he can be so highly thought of at a club without even playing a match for the youth teams. Sebastian Pasquali, a 17-year-old Australian attacking midfielder, made the move to Ajax from Melbourne Victory in the January 2017 transfer window, but he wasn't allowed to play for the club throughout the rest of the season. "We don't have clearance from the FIFA yet," an Ajax spokesperson told the Herald Sun. "The procedure is still pending." Nevertheless, Pasquali is a truly gifted talent.
Ajax took a punt on Sebastian Pasquali in the fall of 2016 despite the player only having played 2 A-League matches. What really captured the attention of audiences worldwide was his performance off the bench against Juventus in a friendly with Melbourne Victory last July, where he dominated the match and eventually scored in the penalty shootout. Pasquali's flashy dribbling certainly wowed the announcers, but there's a lot more to the Aussie's game than that.
Sebastian Pasquali is one of those players that you watch and you just know he's in control of the match. I'd liken him to a much more advanced Sergio Busquets because of how well he works in tight spaces; he's constantly turning his head to analyze the situation, whether that be to avoid defenders or pick out open teammates. Pasquali's passing ability allows him to unlock defensive lines, and he can do it so often because he puts himself in the positions to receive passes with time on the ball. At only 16-years-old, you could tell he was the main pivot, the creative composer of Melbourne's attacking moves.
Pasquali isn't just a creator. He's not tall and is actually quite skinny, but the midfielder can stay composed and hold defenders off just long enough to get a pass away. Pasquali's confidence is also beneficial without the ball as he is often seen tackling the ball away from opponents that don't see him coming. He is certainly well-rounded enough for the Ajax system, especially at his age.
The player many Australians are claiming as their new hope, Sebastian Pasquali should excite every supporter of Ajax. He is not only a talented individual but also a great team player in a short-passing system. Sebastian's confidence will surely make him a threat in the press as well. Pasquali may not have played a game for Ajax yet, but he's poised to make an earth-shattering impact once he lands on the TV screens of fans across Holland.
Carel Eiting
One of Jong Ajax's key players last season, 19-year-old defensive midfielder Carel Eiting makes the cut at #4. A playmaker who prefers to sit deep, Eiting has the versatility to play in a more forward midfield role or even at centre-half. Wherever he plays, the Dutch youth international provides a presence like no other. Eiting is one of the most technically sound players I've seen at such an age who somewhat reminds me of Xabi Alonso for the way in which he bosses the play in front of the defensive line.
Eiting's passing and ball control are both spectacular. He is also strong and agile, which allows him to maneuver through tight spaces when being pressed tight. Carel's cross-pitch vision and composure sees him calmly pick out teammates from far distances, while his short passing is also quite good. Eiting is also a reputable defender, as his tackles and positioning are pretty good for a playmaker-type midfielder. Finally, Carel Eiting's overall awareness makes him one of the smartest players on the pitch at any given time.
This season is an interesting one for Eiting. We've seen Donny van de Beek and Frenkie de Jong stake their claim as first team players, but the road seems to be winding a bit more for Carel. Many fans would like to see veteran Lasse Schøne phased out of the deep-lying playmaker role in favor of either van de Beek or de Jong. If that's the case, Eiting may find himself as a rotational player in the midfield.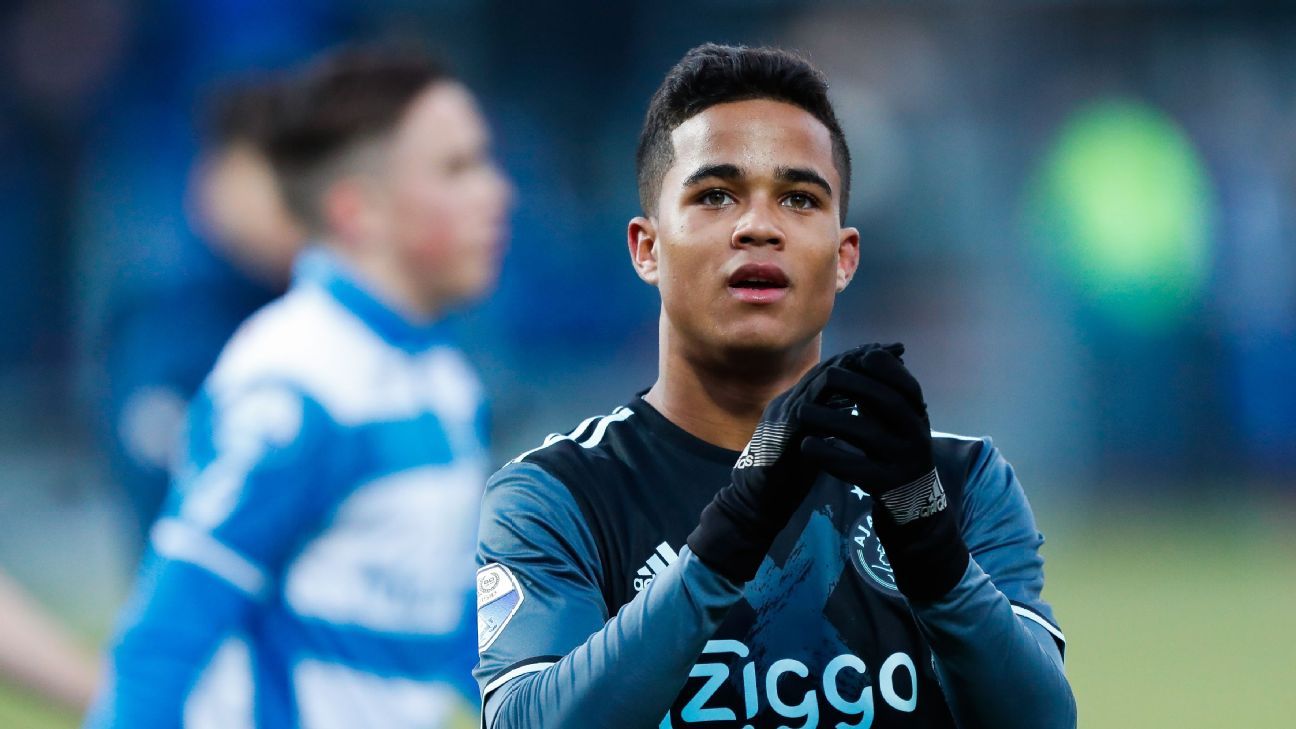 Justin Kluivert
Less than one year ago, Justin Kluivert made his Jong Ajax debut. In January he made his Ajax first team debut. In a similar light to his father, Patrick, Kluivert sent the fans of the club into a joyous frenzy after only a few appearances. The winger, who can play on either the right or left, is one of the more remarkable stories of the 2016/17 campaign. Ajax was struggling at the halfway point; Bertrand Traoré's inconsistency, Amin Younes' lack of a finishing product, and the sale of Anwar El Ghazi meant the flanks were a barren wasteland. When Kluivert emerged as a first team option at only 17 (now 18), everyone was understandably relieved.
Justin Kluivert is a phenomenal winger in every sense of the word. His speed off the block coupled with his insanely deceptive dribbling skills absolutely terrorizes defenders. Once he beats his man, Kluivert has the know-how to either slide the ball across the box to a trailing teammate, send in an accurate cross with either foot, or make a beautiful through ball to split the defense.
Having already amassed plenty of first team appearances last season, Justin Kluivert has begun the season as Keizer's first choice right-winger over Brazilian David Neres. To challenge an expensive, slightly older player and beat him to a starting spot is one thing. But when Kluivert left the pitch after Ajax's 3-3 aggregate loss (on away goals) to OGC Nice for Champions League qualification, there was no doubt that he was the man of the match. The sky is the limit for young Justin. We're all excited to see what happens next.
Matthijs de Ligt
Captain a professional team? Check. Play in a European Cup final? Check. Become a full international? Check. Do it all at the age of 17? Check. The amount of accomplishments already claimed by young defender Matthijs de Ligt. Already a mainstay at centre-back for the Dutch giants, he's one of the biggest prospects in world football. De Ligt has stayed strong in the face of adversity, been a technical and mental leader for the team, and popped up on both ends of the pitch with amazing, match-winning plays. If the sky is the limit for Kluivert then the galaxy is the limit for Matthijs de Ligt.
Having been brought up in the Ajax academy, one can already presume what de Ligt's strengths are. First and foremost, he's a great defender. Last-ditch tackles, crucial interceptions, and swooping headed clearances are all actions performed by de Ligt on a weekly basis. He is also an integral part to the passing play Ajax is known so well for; the Dutchman is comfortable dribbling the ball out of the back to free up space for his teammates to make runs. Although the match ended in a loss, de Ligt's confidence was on full display in the Europa League Final against Manchester United. The youngster maintained a high pass accuracy despite accruing a large number of touches, and his defensive abilities were crucial in damming countless United attacks.
Matthijs is also a big threat physically. Although not quite as speedy as some of his teammates, his 6'2" (1.88m) frame is quite muscular, which gives him the strength to ward off pesky attackers. This also helps on the offensive end, as de Ligt is a constant threat on set pieces. Matthijs de Ligt is almost the textbook definition of a ball-playing centre-half, and at 17-years-old it is actually quite terrifying to think how dominating the Leiderdorp-born teen can one day become.
Kasper Dolberg
The man who takes home the crown as Ajax's most promising teenager is none other than Kasper Dolberg: the Danish sensation. The all-around 19-year-old forward has taken massive strides over the past year since making his first team debut; Dolberg is comfortable in basically every aspect of the striker role. His ball control and passing ability forces defenders to track him deep into the midfield, which allows his teammates to run into open space. Dolberg's composure when striking the ball, strength when battling defenders, and confidence when pressing makes him undoubtedly the most complete and exciting striker Ajax has possessed for years.
A symbol of the tenure of Peter Bosz, Kasper Dolberg scored 23 goals and dished out 10 assists in 43 matches in all competitions last season. It is clear that he poses a major goal-scoring threat to defenses not only in the Netherlands, but across Europe as well. Dolberg's tally of 10 assists goes to show that he's not only providing a relieving outlet in the midfield but is also making the key passes that create goals. All of this combined with Kasper's willingness to press hard when out of possession and a strong aerial presence in the box has put the Dane on the mouths of Ajax fans everywhere, as well as those of Europe's elite clubs' scouts.
It is probably inevitable that Kasper Dolberg will leave Ajax for a massive pay raise and chance to play against the world's best at some point in the not-so-distant future. Him staying in Amsterdam this year is crucial for his development, but don't be surprised if the complete forward is saying goodbye to his teammates in the summer of 2018. To be quite frank, the global market takes these matters out of our hands, so why don't we just enjoy every Kasper Dolberg dribble, pass, and goal this season; it may be his last with us.